The Puppies!!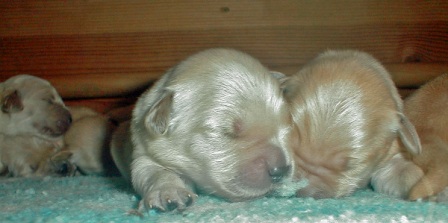 All Gideon Goldens live in our home and are a part of our family. Goldens are not a breed of dog that does well living outside and away from the people that they love. Our puppies are also raised in our home, in the morning room so that they are exposed to all the sights and sounds of a "normal household". It is important that puppies are exposed to all kinds of sights and sounds while they are with the breeder so that they can grow to become happy, healthy adults.
We also have our grandchildren over to play and interact with the puppies on a regular basis so they are also well socialized around children. The puppies also spend time playing in various places in the house so they are exposed to different surfaces, too.
All dogs that are a part of our breeding program have been evaluated against the Golden Retriever standard and have also been evaluated for soundness both mentally and physically. We also check hips and elbows with the Orthopedic Foundation for Animals, hearts are checked with a Board Certified Veterinary Cardiologist and eyes are checked yearly with an ACVIM ophthalmologist. We have been doing these clearances for a number of generations with our dogs and feel that they are very important in having the healthiest dogs possible.
All our companion puppies are sold on AKC limited registration and on spay/neuter contracts. All our puppies are placed with APPROVED homes only and we do also keep a waiting list for any litters that we are expecting. I do not place puppies outside of the USA or Canada and do not deal with pet stores and brokers. I do not ask for a deposit until after the pregnancy is confirmed.
During the time that the puppies are with us, we get to know each individual puppy personality very well. We also feel very strongly that we want the right puppy with the right family so that the puppy's needs are met and so that the family gets the puppy they have been hoping and dreaming of.
We do also keep in contact with the families who adopt our babies. It is very important to us that we maintain a relationship with all families so that we can help with any questions or problems that may arise and so we can receive feedback about the direction our breeding program is moving.
If you are interested in adopting a Gideon Golden, the first step is to fill out our puppy application. Please email Vicki at
GideonGR@aol.com
for a copy of the application. If you have any questions about our process or anything at all, please don't hesitate to contact us.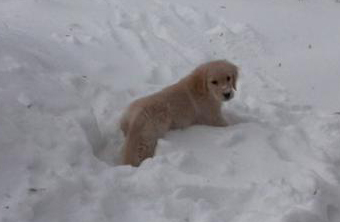 We are also more than happy to give references from our veterinarian and from other Gideon Golden owners upon request.